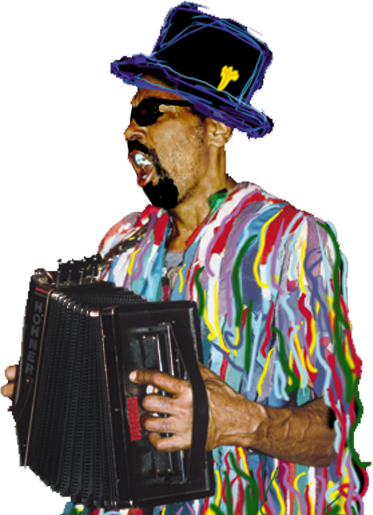 Backstage with Theo and the Zydeco Patrol
In San Diego, the band current home, the "Bon Temps Social Club of San Diego" has welcomed "Theo" and the Zydeco Patrol to Southern California with true Cajun hospitality. The local dance club, part of the West Coast network of Louisiana-style social clubs, has featured the band at their own Cajun/Zydeco dances… and they haven't stopped dancing yet! Chances are that if you go to a Zydeco Patrol show in San Diego you are gong to see a "Bon Temps" dancer doing the authentic Cajun two-step or Zydeco shuffle, just like in Louisiana.
The thriving Cajun and Zydeco dance scene on Southern California and the West Coast are in perfect step with the style and musical influences of Theo and the Zydeco Patrol. Anyone who has ever been to a Louisiana festival knows about the secret ingredient in Theo and the Zydeco Patrol's unique musical gumbo… Traditional Creole and Zydeco music.
The "fais do do" stage at the New Orleans Jazz and Heritage Festival, the world famous Breaux Bridge Crawfish Festival, Festival Acadiens in Lafayette and the Zydeco Festival in Plaisance are the source of "Theo" and the Zydeco Patrol's Louisiana dance music… everything from the Balfa Brothers to Beau Jocque.
So, if you want to go back to the bayou and the Cajun prairie of Southwest Louisiana, get ready for an evening of dancing and good times with Theo and the Zydeco Patrol. It's the best Cajun and zydeco dance party outside Louisiana!
For booking engagements please call 318.981.0378 in Louisiana and (858) 344-9874 In California, just ask for Theo.
About Theo Bellow aka " Zydeco T"
Born and raised in the birthplace of Cajun and Zydeco music: Lafayette, Louisiana. Theo grew up a mile from the famous Hamilton's Club mentioned in Paul Simon's "Graceland" album. Major tours include a West coast tour in 1995 with Boo Zoo Chavis, and a U.S.- Canadian tour with Buckwheat Zydeco in 1997. With his backup band Zydeco Patrol, Theo has produced several albums which you can see listed here.