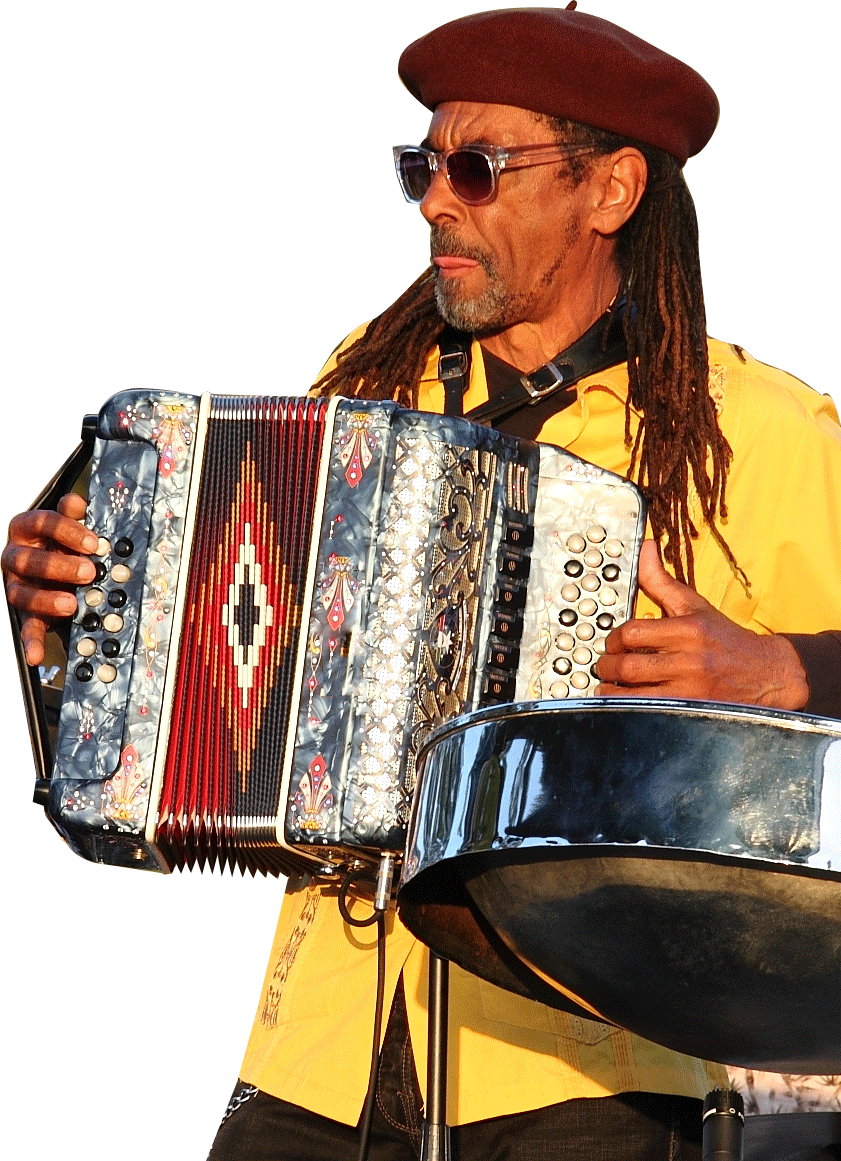 Theo and the Zydeco Patrol Combines the Blues with Southwest Louisiana Cajun and Zydeco
Creating quite the tasty musical gumbo, THEO & THE ZYDECO PATROL combines a variety of melodic influences from Southwest Louisiana, where Theo grew up and where his musical odyssey began. He starts with the blues, adds traditional Cajun, whisks in some zydeco, and then tosses in a little Caribbean reggae seasoning to top it all off!
With a vibrant sound straight out of Louisiana — from the dance clubs, bayou festivals, crawfish boils, and backyard family gatherings — THEO AND THE ZYDECO PATROL will rock you from a lazy Sunday afternoon right on into "Mardi Gras" with a toe-tapping, heart-thumping, high-octane brand of music y'all won't soon forget!
It's hard to resist their tunes that blend the time-honored accordion and rubboard with guitar, bass, drums, keyboard, and often a horn to produce the hot, spicy musical concoction that turns any gathering into a spirited hoedown. So if you're looking for authentic music from the heart of Louisiana that'll get any crowd shaking out on the dance floor, THEO & THE ZYDECO PATROL is the real deal!
For Bookings, Special Events, Schedule Information and Merchandise sales, please call Theo Bellow @ (858) 344-9874
-OR-
For US Bookings, please contact
A-LIST PRODUCTIONS
Eric Edwards
Email: eric@alistproductions.com
Mobile Phone: (619) 995-2707
For European Bookings, please contact:
Thomas Podgoretsky
Killifreth House, Budock Water, Falmouth, Cornwall TR11 5DD, UK
Email: tpodgoretsky@yahoo.com
Hm. Phone: +44 (0)1326 374879
Mobile Phone: +44 (0)754 246 4423
---
A Quick Peek of the dates
Coronado Cays Yacth Club - 8/19/2022 / 6:30 PM – 9:30 PM
Tio Leo's Napa and Morena - 8/23/2022 / 7:00 PM – 9:00 PM
Glen Eden Resort (clothing optional!) - 8/27/2022 / 12:30 PM – 4:30 PM
---
The Zydeco Patrol has a New CD!, Audrey 1625! Listen now!